Palladium prices rose to a two-year high in April, making it the biggest gainer among precious metals. Last month we outlined some of the factors contributing to the palladium price rise: a growing auto sector; a strong South African currency; a falling dollar; and bullish sentiment across industrial metals. However, as prices continue to climb, it's time to question how high prices can go. Despite a still solid outlook, there are some reasons to believe palladium prices could be nearing their peak: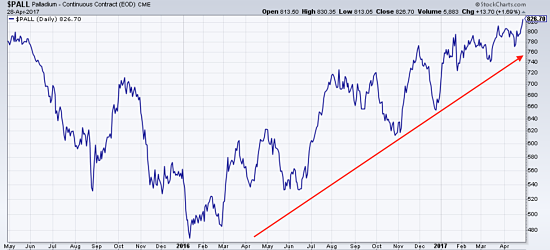 Daily Palladium
Palladium prices hit 2-year high. Source: MetalMiner analysis of stockcharts.com data
Global Demand for Cars
Eighty percent of palladium demand comes from cars. China has the largest auto market, followed by the United States. Therefore, car sales in these two countries are very important for palladium's demand outlook.
Car sales in the U.S. fell short of expectations in March, down 1.6% compared with March 2016. After two years of record sales, the auto industry seems to have hit a plateau. The U.S. industry might have to come up with discounts and incentives to continue to increase sales.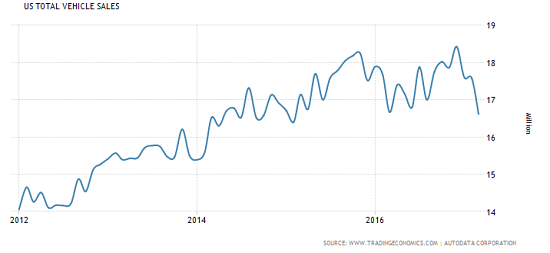 U.S. Vehicle Sales
US total vehicle sales. Source: tradingeconomics.com
Car sales in China rose 13.7% in 2016 compared to 2015. The astonishing performance of China's auto market helped boost palladium prices last year. Sales are still running strong this year but not at the same pace as last year. According to the Wall Street Journal, sales of vehicles, excluding those typically used for commercial purposes, rose 1.7% to 2.1 million units in March from a year earlier.
Weaker sales-tax incentive have put pressure on demand this year and are expected to slow down demand even more next year. Buyers of cars with engines up to 1.6 liters paid a 5% purchase tax last year, but they are now paying a 7.5% rate. Buyers are still finding incentives to rush on buying cars this year since the rate will increase to 10% in 2018.
Palladium Nears Resistance Levels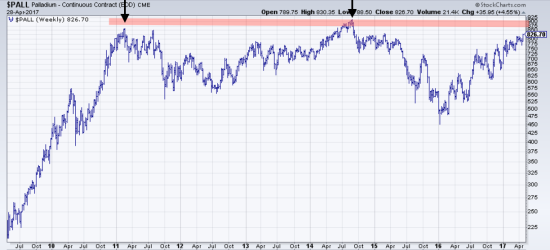 Weekly Palladium
Palladium nears long-term resistance levels. Source: MetalMiner analysis of stockcharts.com data
Palladium prices have risen steadily since the beginning of 2016, but the metal is now trading at historically high levels, which could play against this rally. Historically, palladium has peaked in the range of $850-$900. Prices closed last week at $827.
This doesn't mean that prices will necessarily peak at these levels again, but we suspect that the closer prices get to those levels, the stronger the fundamentals will need to be to lure investors to chase prices higher.
What This Means For Metal Buyers
Palladium's outlook continues to look good, but a potential slowdown in global auto sales and stiff price resistance near $850-$900 could put a ceiling to palladium's rally this year.